Hello peeps!
I hope everyone had a wonderful weekend! While trying to catch up on my reading list this morning, I came across a new challenge: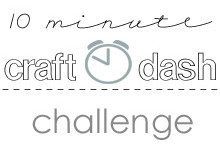 I thought this sounded like great fun, so I told my hubby about it. I wish I had a photo to show the look on his face. He was clearly amused and trying very hard and rather unsuccessfully to hide it. Then he offered to time me. So, I'm not the fastest when it comes to crafting and I can be a bit meticulous, but if you want me to do something, just imply that I can't. The challenge was on!
I pulled out some supplies:
White precut and scored card (I actually bought it that way when I first started making cards ages ago, so I have some left over from that era)
House Mouse sticker - I found these at a local store and thought they would be perfect for some really quick cards, though I have to confess - it felt a little like I was cheating.
MS snowflake punch and scrap card
2 way glue pen
SU dazzling diamonds glitter
LOTV sentiment stamps
black ink pad
Rhinestones
And here is what I came up with:
The finished card took 9 minutes and 35 seconds. I wanted to put one or two more snowflakes on, but they kept breaking when I covered them with glue, so the finished card only has one lonely little snowflake. I have to admit that as someone who works slowly and deliberately, this time crunch was rather stressful and this is probably one of my least favourite cards so far this year :( However, it is nice to have a Christmas card done so quickly. At first I thought I would never do this again, but then I reconsidered and am definitely going to try again to see if I can do better. It was a very difficult challenge, but that is part of the fun and it should only get easier with practice (I hope!).
I would like to enter this card in the following challenges:
10 Minute craft dash - free for all
Simon Says Stamp - animal antics
House Mouse and Friends - Double Trouble (image with at least two mice and/or their friends on it)
Thanks for stopping in! I hope you can come join in the fun.
Have a great week!
Hugs,
Dawn