Hello everyone,
I am back with my second attempt at the 10 minute craft dash, and I must say I am now hooked!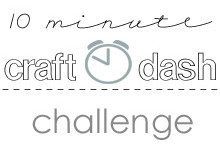 Here was my list of supplies this time around:
Cardinal digi stamp from Fred She Said (this one comes in black and white and a couple of pre-coloured versions - perfect for quick cards)
Ribbon
White cardstock
atyou Spica marker (clear)
black ink pad
Sentiment from Stampin' Up Bells & Boughs stamp set
And here is what I came up with:
This second card went much more smoothly - so much so that I ended up making two of them. The first time it took me 9 minutes and 28 seconds including the time to set up the pre-coloured digi in a document and print it. Since the digi was already set up for the second one, it only took 5 minutes 30 seconds! Perfect for mass producing and mailing as it is very flat.
I'd like to enter this card in the following challenges:
Thanks for stopping in and for taking the time to leave a comment! Have a great week!
Hugs,
Dawn